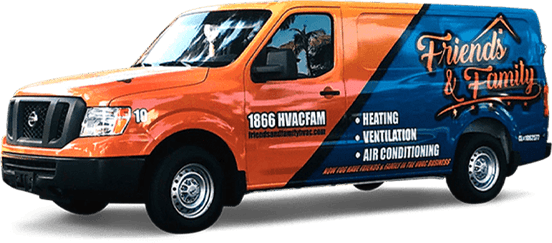 HVAC Diagnostic Services in Southern California
There's nothing worse than your furnace or air conditioner breaking down when you need it. Rest assured that no matter what brand, make, or model your furnace or air conditioner is, Friends & Family HVAC can fix it.
While other companies will come out, spend a few minutes diagnosing the surface issues, and then hand you a bill, Friends & Family HVAC takes a different approach.
HVAC Diagnostic Services in the Inland Empire, Orange County, San Bernardino County, and Riverside County
Your furnace and air conditioner are complex mechanical systems, and when anything complex or mechanical breaks down, there's always a root cause.
All too often we have diagnostic calls where homeowners have had multiple issues and have had multiple companies out. Most companies only diagnose the surface issue instead of finding the root cause of the problem. This is how a chain reaction occurs. If you've been having problems with your heating or air for years, you probably have an underlying issue that hasn't been addressed.
Here's an industry secret other companies won't tell you. We are in the repair industry. Most of our revenue comes from fixing these machines and then have you call us out time and time again to fix them again. But the thing is, these systems rarely break down. When they do, it's because there's a root issue. Once that's fixed, you shouldn't keep having problems.
What HVAC Systems We Repair
Friends & Family HVAC can repair just about any heater, air conditioner, or heat pump on the market. If for some reason we are unable to repair your system, we'll waive the diagnostic fee. We won't charge you for something we can't fix. That's the Friends & Family HVAC difference.
The Friends & Family Diagnostic Difference
Instead of going to your home and merely fixing the surface problem and leaving, Friends & Family HVAC technicians will do a full system diagnostic and find the core issue. You can rest assured that if you have us in your home for a system diagnostic, that's exactly what you'll receive, a full system diagnostic.